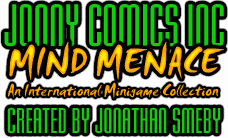 Home
Minigame Gallery
FAQ
Jonny Comics News
Contact
The first Jonny Comics game that YOU make!
Jonny Comics Inc: Mind Menace is a new project being made at Jonny Comics, Inc. Basically, this game-in-the-making is made up of minigames. Each minigame in the collection is no longer than 30 seconds long, and each is completely different than the last. Some of the minigames are made by me, Jonathan Smeby, but the rest are made by various game designers from all over, just like you!
This means that you can help make this new game. All you need to be qualified for minigame entry is a basic knowlege of any Clickteam product (Klik & Play, The Games Factory or Multimedia fusion) and a little bit of time! It also helps to have good ideas for fun minigames, too. So if you want to make and contribute your own minigame for the JCI minigame collection, read below for basic rules. Then look around the rest of this site to download minigame examples and more!
Basic rules for creating your minigames
So you want to contribute a minigame to the JCI minigame collection? This is what you MUST know before starting. Please read everything carefully and don't forget anything. This will save time that might be spent trying to fix some minigames...
RULE 1: All minigames must be 320x200 pixels in size. They can run however you want, as long as their window sizes are this big.
RULE 2: Make sure your games have a time limit. This time limit can be any length as long as it's not over 30 seconds. Please put a visible timer in your minigame if you can.
RULE 3: Every minigame must end by going to the next frame. Also, they must all end with you either Winning or Losing. Please make sure players can know for sure if they've won or lost.
RULE 4: You must fit your minigames into only one frame each. And they must be controlled by either the keyboard (Shift, Ctrl and Arrow Keys) or the mouse.
RULE 5: Your minigames should be as original as you can make them! Do not send me a boring Pac-Man clone or anything like that. And do not use other people's characters or ideas without permission. This means you may not use TV characters or music from other games!
RULE 6: Try your best to make a fun and original game. If your game is too dull, or doesn't follow these rules, I'll most likely not use your minigame.
After creating your minigame, make sure you do the following...
Send me an opensource file of your game along with:
Your Name
Your minigame's name
The name of the country
or state you live in
Any extension files needed
to run your minigame
My email address is jonny@jonnycomics.com
If you have any questions about the JCI minigame collection, first goto the FAQ. If that doesn't help, just write to me! I'll be happy to answer your questions right away!
All manner of things and various stuff on this website that is related to Jonny Comics and relate
characters are copyright 2002, 2003, Jonny Comics, Inc., all rights reserved.