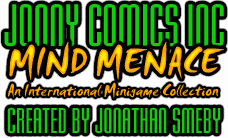 Home
Minigame Gallery
FAQ
Jonny Comics News
Contact
Here you can download some minigames that have already been made. You can also see screenshots of other minigames that will be playable in the final collection.
Here's a look at some other minigames...
All manner of things and various stuff on this website that is related to Jonny Comics and relate
characters are copyright 2002, 2003, Jonny Comics, Inc., all rights reserved.